Northwest of the valley, the exceptional beauty of Sycamore Canyon is available for those willing to spend an hour driving well-maintained dirt roads.

Sycamore Canyon Wilderness encompasses the second largest canyon in Arizona's red rock country and was designated a wilderness area in 1972. A lesser known, but equally scenic, cousin of Oak Creek Canyon, Sycamore Canyon Wilderness contains more than 50,000 acres of colorful cliffs, soaring pinnacles, and one of the world's rarest habitats, a desert riparian area.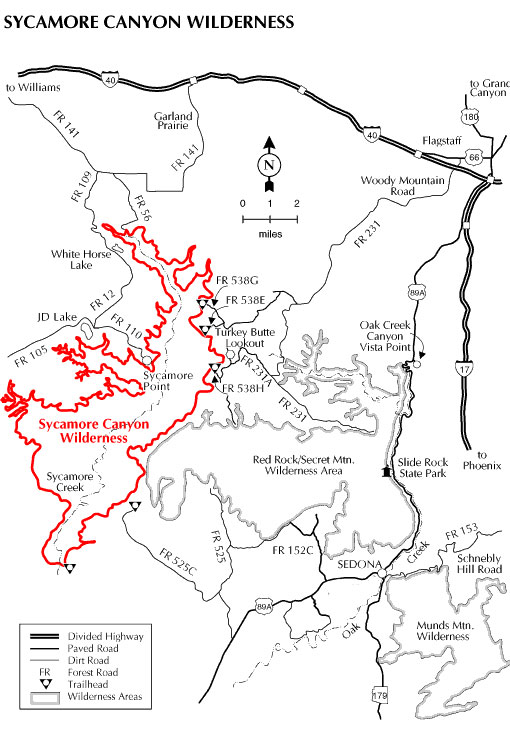 Trails in the Sycamore Canyon Wilderness
Sycamore Canyon Northeast Trail System on the Coconino National Forest Flagstaff Ranger District.
Sycamore Canyon Southeast Trails on the Coconino National Forest Red Rock Ranger District.
Trails on the western side of Sycamore Canyon Wilderness on the Prescott National Forest.
Sycamore Rim Trail on the Kaibab National Forest.
Managed by four separate ranger districts of three different National Forests, this wilderness has plenty to offer. Wildlife viewers will enjoy trying to spy black bears, mountain lions, ringtail cats, and javelina, along with enjoying the singing of canyon wrens and hermit thrushes. Hikers and backpackers have a choice of 15 trails to explore. Try to find the picturesque lair of another of the canyon's historic residents, the American cowboy, on Taylor Cabin Trail. The Sycamore Rim Trail (Kaibab National Forest) skirts the canyon's upper reaches through an area of secluded pools and tall forests, while Parson's Trail meanders up a fertile desert riparian area, a habitat as rare as it is productive.
Wilderness areas are rare, wild places set aside by Congress where the land is allowed to retain its natural state, serving as a natural haven for humans to escape modern civilization and for nature to be itself. To help minimize human impacts in wilderness and maintain its character, several laws and regulations have been put in place and we ask visitors practice "Leave No Trace Ethics."
Attractions: Wilderness solitude, trails for hiking and horseback riding, red rocks, pinnacles, buttes and arches, photography & wildlife viewing, swimming, and fishing, history (Native American ruins, historic cabins).
https://www.fs.usda.gov/recarea/coconino/recarea/?recid=74369