The Blazin' M Ranch is located at 1875 Mabery Ranch Road in Cottonwood, about 5 minutes from the Verde Canyon Railroad. The Blazin M Ranch is a must see for the entire family! Step back in time for a great outing that's sure to be enjoyed by adventurers of all ages including dinner shows and so much more.
The Blazin' M Ranch has provided visitors to Arizona an Old West experience to remember. Featuring a mouth-waterin' BBQ chicken and ribs chuckwagon supper followed by a toe-tappin, knee-slappin' hour-long Western stage production by award-winning musicians, it is a must-do attraction during your visit to the Sedona/Verde Valley region.
Arrive in plenty of time before dinner to enjoy the Western town featuring a museum, Old-Tyme photo studio, shooting gallery, ropin' lessons, tractor pull, saloon and Western shops that line the boardwalk.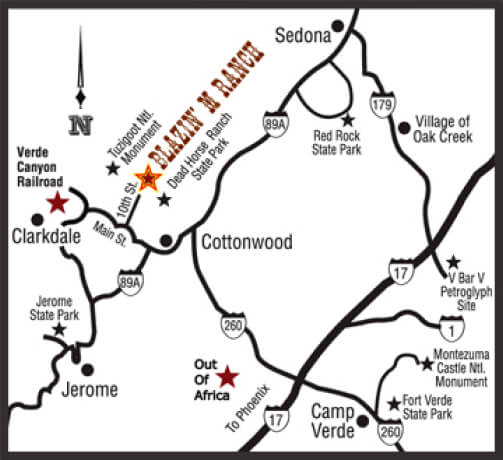 The gates of this Frontier Town open at 5:00pm. You'll find a real western saloon, axe throwing, bull riding, wagon rides, shopping, ropin lessons, and other fun activities for people of all ages!
At 6:30pm, we ring the dinner bell and serve up a delicious Chicken & Rib Dinner with home-made biscuits, prickly pear coleslaw, and a baked potato, all served with Iced Tea, Lemonade and Water!
Then at 7:30, after a scrumptious dessert, the lights dim, and the Western Stage Show begins! The Blazin' M Wranglers play an array of western hits, including songs by Chris Stapleton, Jerry Lee Lewis, Kenny Rogers, Bob Willis & The Texas Playboys, and a few of their own!